When people talk about the Night of Aces, they talk about the history of Italian poker, but in the coming days the prestigious international poker brand is about to write an important page in Swiss poker as well. In fact, the edition of La Notte degli Assi scheduled to take place at the Casino Admiral in Mendrisio from January 16 to 29 will set a small record: in fact, it will be the tournament with the highest prize pool ever organized in an elevatic gambling house. 200,000 euros guaranteed!
To take part in La Notte degli Assi in Mendrisio there are 6 Day1 qualifiers, exactly on January 19, 20, 21, 25, 26 and 27. The buy-in is 550 euros with only one chance for re-entry for each Day1 within the first 10 levels of 30 minutes each. The starting stack is 50,000 chips. A Dinner Break is always included in each Day1 and a total of 13 levels are played. The first three Day1s qualify players left for Day2A on January 22, while those who make it through the 13 levels of the other three Day1s advance to Day2B on Saturday, January 28. Nine levels are played in Day2 and all those who make it through enter "in the money" with a minimum prize of 1,000 euros and get to play the Final Day on Sunday, January 29.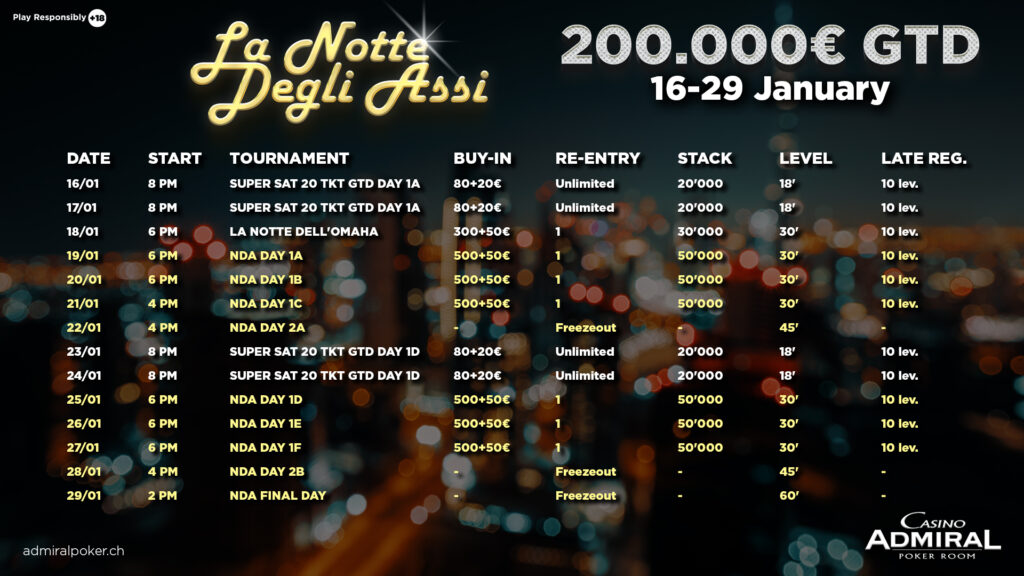 Two 100-euro buy-in super satellites with 20 guaranteed tickets each are being held on January 16 and 17. The winners of the 550-euro tickets from the satellites , along with those who won the Day1A ticket at the Imperium in Milan, must compulsorily use their entry to the tournament in the first flight, the one on January 19 without any waiver. In case they do not play the ticket on January 19, the same will be lost. In the second week of The Night of Aces, exactly on January 23 and 24, there are two more super satellites of 20 tickets each. These tickets are the only ones that can be used in Day1D on January 25.
For both Day1A and Day1D, players who do not physically present an entry ticket are not accepted.
All buy-ins for the €550 guaranteed La Notte degli Assi 200,000, the €100 super satellites and the €350 La Notte dell'Omaha can be purchased daily at the cashier's desk at the Casino di Mendrisio from 11 a.m. until closing, and this is the only way to be sure of getting your seat and not running into long waiting lists.
Regarding exclusively the 550-euro Main Event, it is also possible to reserve your seat through the appropriate form. The online reservation is valid and exercisable by the start time of the Day1 chosen by going to the cashier to make the buy-in payment.
Here is the complete structure of La Notte degli Assi 200,000 guaranteed: La Notte degli Assi Matrix