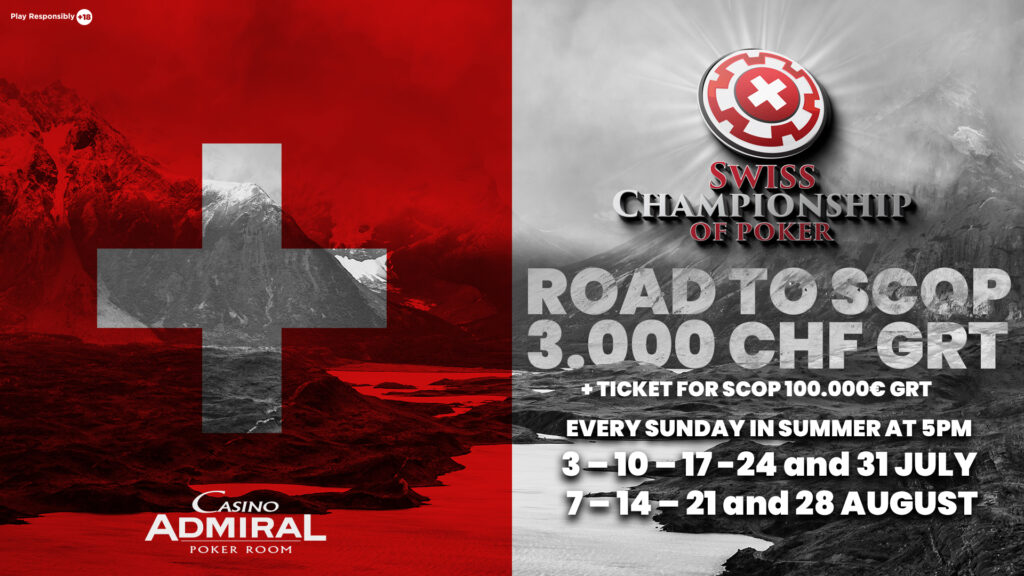 The inaugural event on 3 July saw the participation of 44 players for a total prize pool of CHF 5,500.
Road to SCOP is the name of these 9 Sunday tournaments that entertain players who want to discover the Casino di Locarno, a gem nestled on Lake Maggiore. These 9 identical tournaments all start at 5pm on Sundays in July and August and all have a guaranteed prize pool of 3,000 CHF. The buy-in is CHF 150 with late registration and re-entry until the end of the Dinner Break, around 8.30 p.m. (8th level). Starting stack of 40,000 chips and 20-minute levels for a highly playable tournament for a one-night event. The dates for these nine tournaments are 3, 10, 17, 24 and 31 July, then again on 7, 14, 21 and 28 August. The winner of each of these Road to SCOP tournaments wins a ticket worth €250 to participate in the €100,000 guaranteed Swiss Championship of Poker in September. On the occasion of Road to SCOP, a dedicated menu is prepared for poker players to enjoy the Dinner Break at the Admiral Poker Food set up on the terrace in the city centre, a stone's throw from the lake. In addition, the Lucky Sunday 'lottery' is always offered during the tournament, a totally free competition that gives away 100 chf to play on the slot machines to one lucky player.
Here are the matrices of the Road to SCOP tournaments that take place every Sunday at the Casino Admiral in Locarno.
Here you can find the interview with director Michael Boyschau!