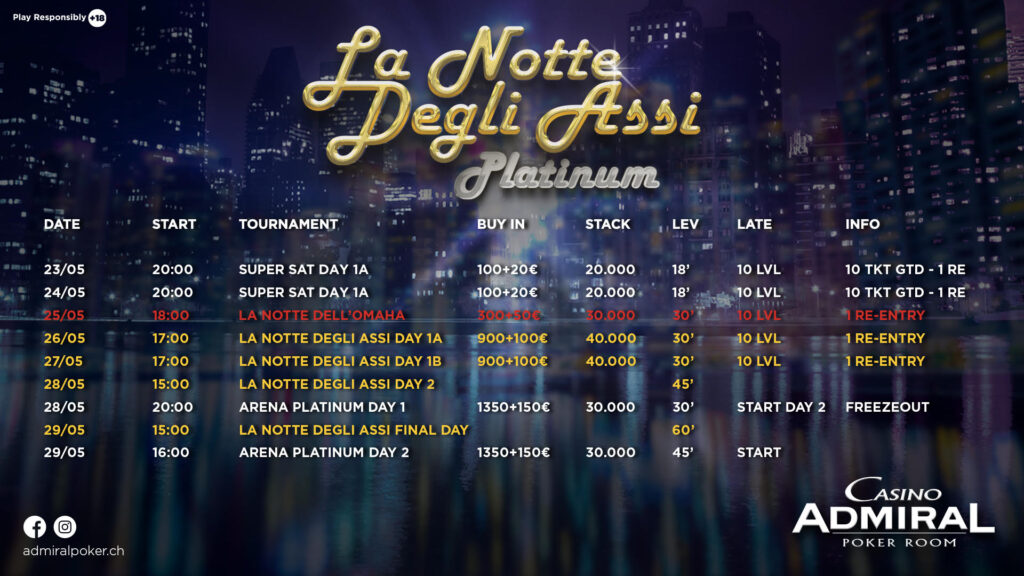 The expectations are growing for La Notte degli Assi Platinum, the prestigious poker event that will take place in the Admiral Poker Room at the Casino in Mendrisio from 23 to 29 May 2022. The schedule of the week dedicated to La Notte degli Assi Platinum includes the presence of the Main Event with a € 1,000 buy-in, two Super Satellites with 10 tickets up for grabs each guaranteed for the main event and two Side Events of great depth: the first "one day" dedicated to Omaha and the second over two days, a High Roller reservation to a limited number.
We describe all the tournaments of this second important poker event hosted by the Admiral Poker Room in chronological order. The week of the "Notte" opens on Monday 23 and Tuesday 24 May, when there are two Super Satellites with a €120 entry fee and 10 guaranteed tickets for La Notte degli Assi Platinum of €1,000 each. A re-entry is possible at each of the two Satellites and the tickets up for grabs are valid exclusively for Day1A of the Main Event on May 26, with no exceptions possible. May 25th is all about Pot Limit Omaha with a tournament called La Notte Dell'Omaha with a €350 buy-in and one re-entry per participant. This is a one-day event. Then on Thursday 26th and Friday 27th May the La Notte Degli Assi Platinum begins with the 900+100€ Main Event, 40'000 chip starting stack and 30 minute level which then becomes 45′ on Day2 on Saturday 28th and 60′ on the Final Day on Sunday 29th May. Day1A will be played on 26 May and Day1B on 27 May with a re-entry option for each of the two flights. The last tournament of the week is the Arena Platinum, an innovative format designed and tested by Imperium Milano. It is a High Roller with 1350+150€ buy-in with start Saturday 28 at 8PM and Day2 Sunday 29. It is a closed number tournament with a maximum of 32 participants, in Freezeout mode and the possibility to register until the start of Day2.
You can book online for the Main Event of La Notte degli Assi Platinum choosing which of the two Day1 to participate by compiling the form below. This reservation is valid until 5PM of the chosen Day1, while to make the registration effective you need to pay the buy-in at one of the cashiers of the Casino of Mendrisio from May 2. Also from this date you can register to any tournament of La Notte degli Assi Platinum, both the Main Event of 1'000€ buy-in and the Super Satellites of 120€ buy-in, La Notte dell'Omaha of 350€ buy-in and the Arena Platinum of 1500€ buy-in. 
LA NOTTE DEGLI ASSI PLATINUM (26-29 May)
Registration will be valid until the start of the chosen Day1 (5 PM).